Reference: Hyperloop Superfast Trains
Hyperloop is the concept of a train that travels vast distances over land at the speed of a passenger Boeing. At the same time, the concept is implemented by several companies at once in various ways. There are many rumors about this transport and there are certain misconceptions. Now we will understand what is this your Hyperloop, what does Mask have to do with it and why is it even necessary?
Hyperloop projects receive investment and are gradually moving forward. True, the speed of implementation of the plans of different companies is low
The author of the idea is Ilon Musk?
Wikipedia
tells us
that Hyperloop is a project that responds to the US government's plan to build the
California High-Speed ​​Rail
. By 2029, this road should connect Los Angeles and San Francisco. Trains will run at a speed of 322 km / h. The project cost is estimated at $ 68.4 billion.
In the same "Wikipedia" it is said that Ilon Mask, having familiarized himself with the project of the government, called it the most expensive railroad transport solution in terms of one mile. The entrepreneur first announced about the Hyperloop project in July 2012. Then he said that the new vehicle would be about two times faster than the aircraft and 3-4 times faster than any existing high-speed train. The same way from Los Angeles to San Francisco (a distance of 561 km in a straight line) will take about half an hour for Hyperloop.
Based on this, many media outlets conclude that Musk developed and proposed his own idea, that is, he is its author. In fact, it is not. About the system of pipelines (or tunnels) with an almost complete vacuum inside and capsules of a special design on a magnetic cushion inside wrote fiction of the mid-20th century. The first proposals for the creation of a transport network of this type appeared at the end of the 19th century. There were even attempts to realize it, for example, to connect New York and San Francisco with a special tunnel. But it didn't go further than talk, because the level of technology development at that time did not allow to implement such a plan.
Pipeline concept for high-speed trains (1974)
Most likely, Musk just once heard or read about it, and having thought over the idea, he decided to try to revive it. This is supported, for example, by the fact that he presented at the very beginning only draft sketches, blueprints without a calculation base.
Mask's proposed Hyperloop is a magnetic cushion train, right?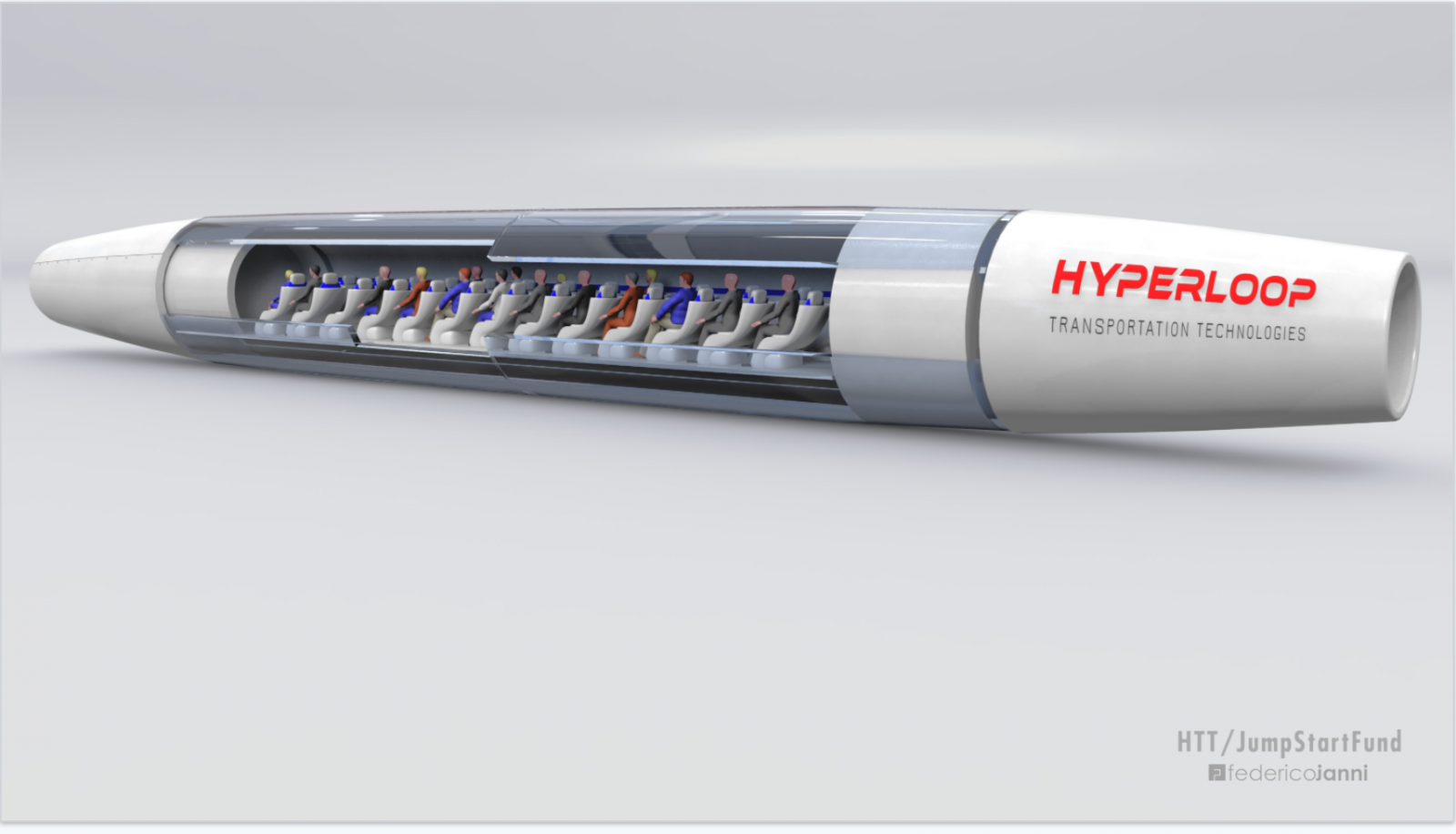 Not certainly in that way. Yes, the magnetic pillow as an element of the system is present in most projects of this kind, including in NF works. But to achieve a planned speed of about 1000 km / h, not only a magnetic cushion is needed, but also an almost complete vacuum in the tunnel through which the train moves. As it turned out, to provide both of them is an expensive pleasure.
Mask suggested not to strive for the achievement of a complete vacuum, but to maintain a
forevacuum
with a pressure of 100 Pa (approximately 1/1000 of atmospheric pressure). A further decrease in pressure is not very profitable, as costs grow exponentially.
Those air masses encountered by the train on the move decided to redirect - right under the bottom of the capsules to create an air bag. The pressure in conditions of strong rarefaction should be low — about 9.4 kPa; this requires about 200 g of air per second. So that magnetic cushion is not needed.
Approximately such a concept is implemented by companies that are engaged in the creation of Hyperloop in one form or another.
Well, but how much does it cost? Probably a system just terribly expensive
Not certainly in that way. If the government project, which was discussed above, is the cost of tens of billions of US dollars, which will be used to create a Los Angeles-San Francisco branch, then a similar transportation route from Hyperloop (similar in length and place of creation) will cost only $ 6– 10 billion. However, if Hyperloop is scaled across the entire state of California, then it will be about $ 60 billion. But this is still a whole state, and not just one track.
They plan to build tunnels above ground. The lines are proposed to be launched along the route of already existing autobahns. Lease of land should be minimal precisely because the pipeline does not go directly on the ground, but "hangs" above it. Plus, Hyperloop will work at any time of the year and in any weather - external conditions for tunnel vehicles are not a very important factor.
Hyperloop implements Ilon Musk?
Yes and no. The fact is that initially a businessman just simply told about his vision of this system - how it should look, work, and what principles underlie it. After that, Musk said that he was not going to implement the project.
Well, since "a holy place is never empty," several people who wanted to breathe life into the idea appeared at once. Later added a few more. Probably the first company that decided to take on the project was Hyperloop Transportation Technologies Inc (HTT). The fact is that just a month after Mask's story, a group of Ansys specialists led by Sandip Sovanyi conducted a computer simulation of an economic model that showed the reality of the idea. The funds were collected using the JumpStartFund crowdsourcing platform. As a result, its co-founder Dirk Alborne and SpaceX President Gwynn Shotwell began to lead the process.
A little later, another team was formed by Shervin Pishevar, this is the first Uber investor and the founder of venture capital fund Sherpa Ventures. Just a few months after the publication of the idea, Pishuevar achieved an audience with Barack Obama. After describing all the advantages of the project, the ex-president instructed the Administration's Science and Technology Policy Bureau to study the idea.
After some time, Pishuevar created his own company, which he called Hyperloop Technologies Inc.
It was this company that in December 2017 managed to accelerate the Hyperloop capsule
to a speed of 386 km / h
. Perhaps due to the success of the company decided to support Richard Branson, who
invested a fairly large amount
money and entered the board of directors of Hyperloop One. The company was even renamed the Virgin Hyperloop One. This is quite a viable project that managed to raise about $ 245 million of investment, and the start-up estimate exceeded $ 700 million. A little bit more, and another "unicorn" will appear, a very high-tech technique.
There are more Hyperloops. In particular, the Dutch
Hardt Hyperloop
. This company is located in the Netherlands and is supported by the government.
Ilon Musk, or rather, his company SpaceX is also involved in the implementation of the idea. In 2015, Musk said that he was going to lay a test section of the track and test it. The company has announced a competition for vehicle capsule design. In addition,
Hyperloop pod competition is
now held annually.
that allow you to experience different capsule designs.
Not so long ago, the company Mask was able to get official permission to create a full-fledged Hyperloop track. This will be another test site with a length of about 17 km. Bind it will Baltimore and Hanover. Perhaps, in the future, the route will be extended and Washington and New York connected with its help. True, the tunnels will be laid not only above the ground, but also under - for this, Mask has another company - The Boring Company.
How much will the ticket cost?
It is still difficult to say something definite here, because, as we see, there are many companies, and their vision of the Hyperloop business is different. Mask once said that some parts of the route may be free. Then
he announced
the price of tickets for the flight "Washington - New York" at $ 25.
Virgin Hyperloop One, which builds an expressway in India, announced a price of
$ 150
. True, the track itself will be ready no earlier than 2025. This will reduce the time spent on the road from 3.5 hours to 25 minutes. Perhaps the fare in the capsule will be even lower than the cost of a plane ticket.
When can I go?
Not soon. Despite the fact that several companies are involved in the technical implementation of the project, as mentioned above, the plans are very long-term. Most likely, before 2025 there will be no passenger flights, or there will be, but on very limited sections of the route.
Now it is already 2018, and to solve technical (not to mention legal and financial) problems is not yet possible. So, if earlier it was said that Hyperloop will move at a speed exceeding the speed of the aircraft, now it is not clear how this can be achieved. The maximum record set by the Virgin Hyperloop One in 2017 is 387 km / h.
There are railway projects in which high-speed trains are being developed that can beat any modern record for the railway. And no tunnels, thin air and things like that.
On the other hand, it is quite possible that someone from Hyperloop will still be able to make a breakthrough, come to an agreement with the authorities and launch commercial flights in the near future.
The same Virgin Hyperloop One has already agreed with the government of India to build a test track in the state of Maharashtra, between the cities of Pune and Mumbai. But the timing is still not encouraging. The test track will be built within 2-3 years, a full-fledged road will be created over the next 5-7 years. In May, the company announced the creation of a company that will use Hyperloop technology, but will be engaged in cargo transportation, not passengers.
By and large, the plans are enormous, but their implementation is somewhat delayed. Now, unfortunately, around the projects Hyperloop more hype than real cases.
Tags: